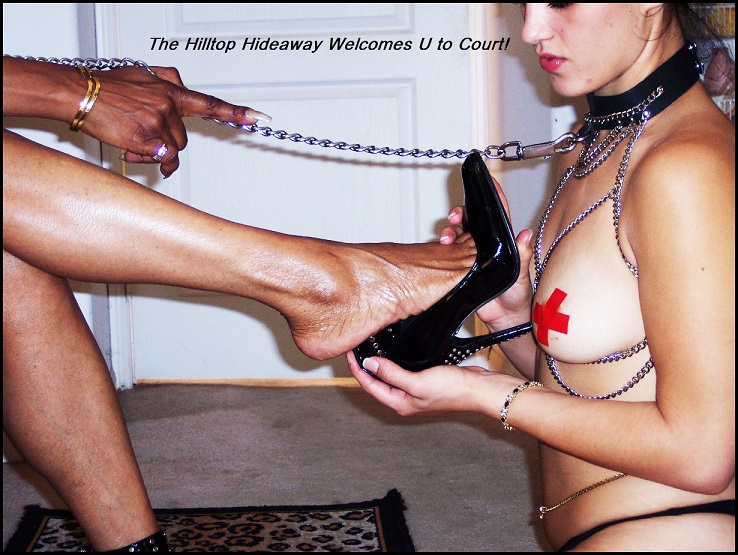 My Kinky Queendom is strictly for the discriminating fetish enthusiast!
The House of Grand Dames is in a land of dark desires located in the realm of fetish and fantasy. In this Hilltop Hideaway you will succumb to your deviate thoughts. Here almost nothing is ta-boo! 
You're invited to travel through space and time where night becomes day and day becomes night. Here the world of fantasy becomes reality and the exotic is the erotic. Dominance & submission are crossed with bondage and discipline. Enema lovers, your fetish is turned into an erotic fantasy. 
Women of strength and grace are specialists in Naughty Explorations and other Exploratory Procedures. As the premier destination for Exotic, Erotic Enemas the huge assortment of lubes, tubes, toys, and nozzles insures you have variety in our pleasures. You may need strap-on play or maybe even Fisting! Let's explore and get to the bottom of things!
Do you have a medical fetish? If  so let's play doctor in a complete medical setting including exam-table with stirrups. Naughty toys and tools will be used from a wild collection including glass g-spot finders, catheters, sounds and so much more! Your examination can be erotic or clinical, and it will be complete even if it requires a full cavity search! The Hilltop Hideaway is fully equipped so you may experience  many other fetishes and fantasies in capable hands.  If you are worthy you might receive a champagne cocktail from the source.
All sessions are tailored to fit the individual person. If you are looking for sexy, sensual, playful, or strict creatures that love what they do your adventure begins here!
Are you ready to go on a journey to a land of erotic dark desires? Will you relinquish power to someone that can titillate your mind? If so, you are cordially invited to Court.  The Queendom awaits!  It's time to….